その他 Others
飛行機・鉄道以外の乗り物を集めてみました。。
Gallery of Vehicles and those other than railways and aircrafts.
・キール運河の車用ゴンドラ Gondla for vehicles over Kiel Canal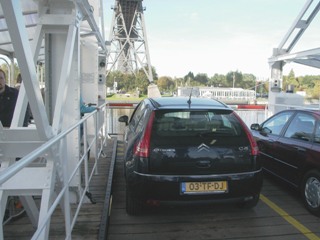 キール運河を跨ぐレンツブルクの鉄道橋に懸下されている車両用のゴンドラ(運搬橋)。4台の車輌と60人の歩行者を運搬できます。2007年10月13日撮影
A Gondla (ferry bridge) suspended from the Rendsburger Hochbrucke ferries pedestrians and vehicles across the Kiel Canal. The goldla is capable for 4 vehicles and 60 pedestrians. Filmed on 13 Oct, 2007.