鉄道(欧州編) Railways in Europe
欧州の鉄道を集めてみました。
Gallery of European Railways.
・TEE  Trans-Europ-Express
TEE (Trans-Europ-Express)は、かつてヨーロッパの国際列車網を形成し、全1等車の編成でビジネス需要に応えていました。航空網と新幹線の発達で姿を消しましたが、欧州の鉄道黄金期を象徴する列車だと思います。
TEE, "Trans-Europ-Express", formed European International train network, and meet business trip requirement with all-first-class accommodation. All TEE trains stopped operation due to the competition with the network of Airline and high speed train, however, TEE still remains the symbol of the golden age of European railway, I think.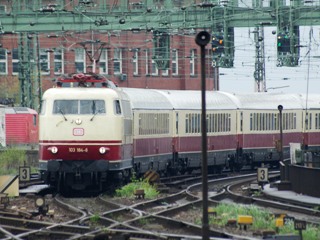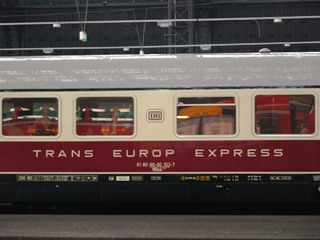 (左)E103電気機関車牽引TEE復活運転 (右)TEE表記入りの食堂車 2006年4月撮影:ハンブルク中央駅
(left)Revival TEE train hauled by E103 type Electric loco. (right) Dining car with TEE sign. Photo at Hamgurg Hbf in Apr, 2006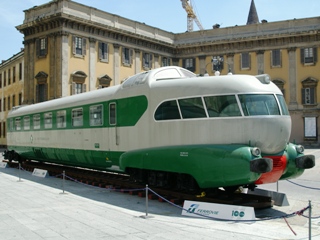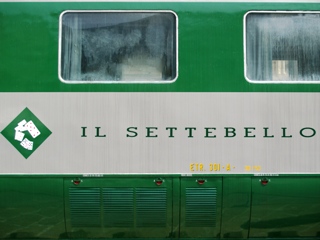 (左)ミラノ大聖堂で展示されたセッテベロの先頭車 (右)セッテベロのロゴ 2005年6月撮影
(left)Observatory car of Il Settebello displayed at Milan Cathedral. (right) The logo of Il Settebello. Photo in Jun, 2005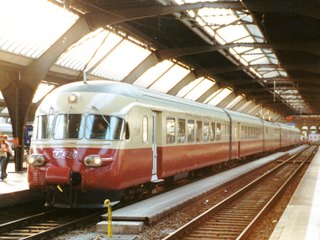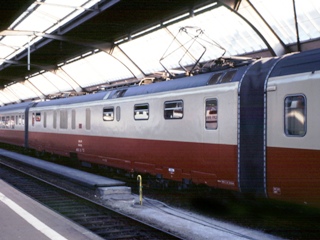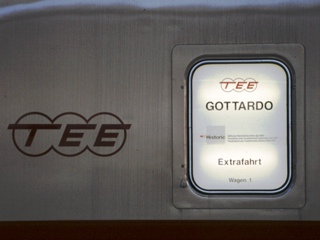 スイス国鉄のRAeIIはかつてシザルパンやゴッタルドなどのTEE特急に使用され、1編成が動態保存されております。国際列車として4種類の電源に対応するためにパンタグラフを4つ備え、電動車を中間に配置しています。 2003年7月撮影:チューリッヒ中央駅
SBB/CFF RAell type EMU was used for TEE Cisalpin and Gottardo, and one trainset is preserved in active condition. For the purpose of international through operation, this train equips 4 pantagraph to take 4 different types of electric supply, and motor car is placed in the middle. Filmed at Zurich Hbf on 1 Aug, 2003.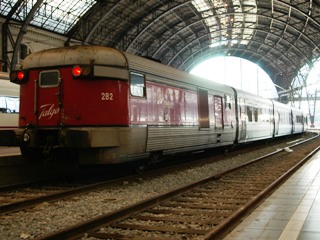 「カタラン・タルゴ」は、広軌のスペインから標準軌のフランス・スイスに直通するために開発された特殊な軌間変更装置を持つ列車。バルセロナ-モンペリエ間の国際特急として長らく残りましたが、惜しくも2010年12月に廃止となりました。2007年3月撮影:バルセロナ・フランサ駅
The "Catalan Talgo" used special train equipped with variable gauge axles to go through from Spain, using wide gauge, to France and Switzerland, using standard gauge. Operation continued in long period as an international train from Barcelona to Montpellier, however it stopped operation in Dec, 2010. Filmed at Barcelona Franca Station in Mar, 2007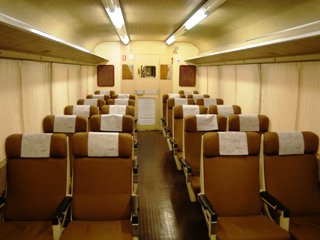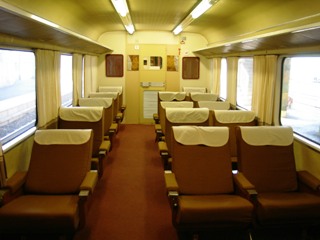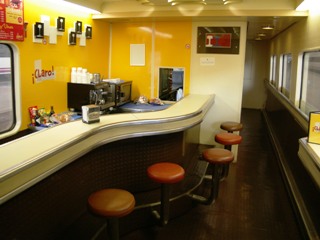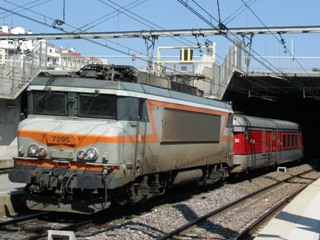 (上左)2等車の車内 (上右)1等車の車内
(下左)喫茶室の車内 (下右)フランス国鉄の機関車と連結 2007年3月撮影:モンペリエ駅
(upper left)Interior of 2nd class (upper right)Interior of 1st class.
(lower left)Interior of cafe (lower right) Coupled with French loco. Photo at Montpellier in Mar, 2007.