思い出の列車たち Trains in memory
廃止された鉄道や引退した車輌を集めてみました。
Gallery of abolished railways and retired trainsets
・引退した列車(大手私鉄・西日本) / Retired Trainsets(Urban West Japan)
名古屋鉄道 / Nagoya Railroad (Meitetsu)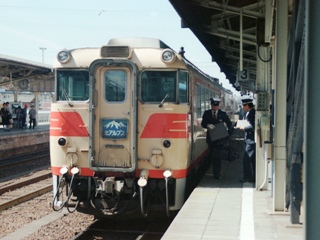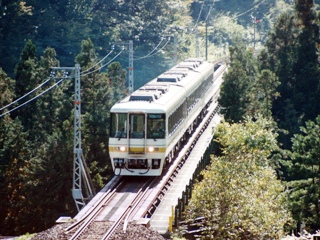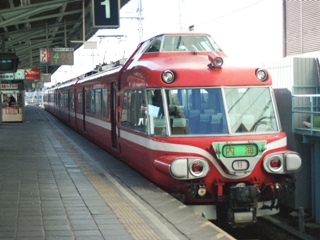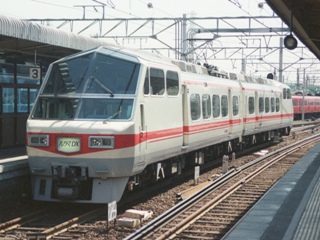 (上左) 8000形北アルプス JR高山本線へ直通運転された(1989年3月撮影: 美濃太田)
(上右) 8500形北アルプス 8000系の後継として投入された(1994年10月撮影: 飛騨小坂-渚)
(下左) 7000系パノラマカー 白帯は座席指定車 (1989年3月撮影:新岐阜) (下右) 8800系パノラマDX (1989年3月撮影:犬山) (upper left) 8000 type DMU "Kita-Alps" went thru the JR Takayama Main Line. Photo at Mino-Ohta in Mar, 1989.
(upper right) 8500 type DMU "Kita-Alps" replaced 8000 series DMU. Photo at Hida-Kosaka/Nagisa in Oct, 1994.
(lower left) 7000 series EMU Panorama car. White stripe means reserved seat car. Photo at Shin-Gifu in Mar, 1989
(lower right)8800 series EMU Panorama DX. Photo at Inuyama in Mar, 1989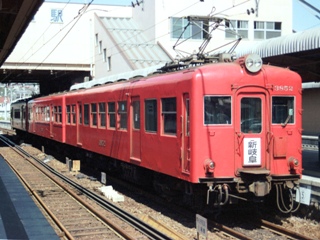 (上左) 3400系 いもむし(1999年4月撮影:犬山)
(上右) 5500系 日本初の通勤型冷房車 (1999年1月撮影:三河八橋)
(下左) 3850系 (1989年3月撮影:犬山)
(下右) 6750系 最後の吊掛車 (2009年6月撮影:森下)
(upper left) 3400 series EMU, nicknamed "Imomushi" (worm). Filmed at Inuyama in Apr, 1999
(upper right) 5500 series EMU, the first air-conditioned commuter car in Japan. Filmed at Mikawa-Yatsuhashi in Jan, 1999.
(lower left) 3850 series EMU Photo at Inuyama in Mar, 1989.
(lower right) 6750 series EMU, the last one existed with old nose-susupension drive, filmed at Morishita station on 6 Jun, 2009.
近畿日本鉄道 / Kinki Nippon Railway (Kintsu)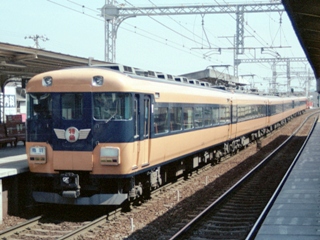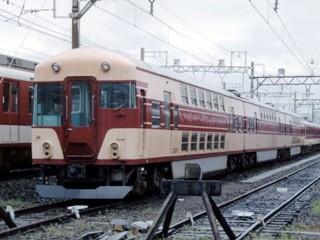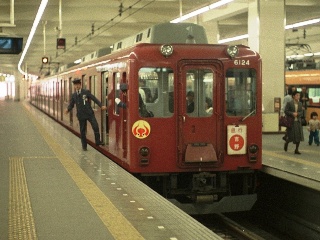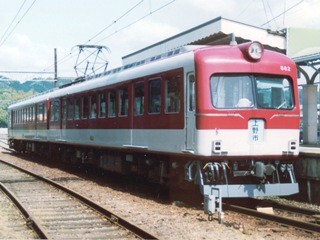 (上左) 12200系新スナックカー 前面に方向幕が取り付けられる前の姿(1988年3月撮影: 伊勢市)
(上右) 20100形あおぞら 修学旅行用の2階建て車両 (1992年4月撮影: 五位堂車庫)
(下左) 古いマルーン塗色の6000系  (1987年4月撮影:大阪阿部野橋)
(下右) 伊賀線用の800系 (1992年4月撮影:伊賀上野)
(upper left) 12200 series EMU, the "New Snack Car" without roll sign in front. Photo at Iseshi in Mar, 1988.
(upper right) 20100 series double decker EMU for students tour. Photo at Goido depot in Apr, 1992.
(lower left) 6000 series commuter EMU in old maroon livery. Photo at Osaka-Abeno-Bashi in Apr, 1987
(lower right) 800 series EMU for the Iga line. Photo at Iga-Ueno in Apr, 1992