国鉄よ永遠に JNR Forever!
1987年4月1日に分割民営化されるまで,国鉄の路線が日本全国を網羅していました。国鉄時代の名残を残す懐かしい列車や駅を集めてみました。
Japan National Railways, abbreviated JNR, had provided a national railway network in Japan until it was devided and privatized to Japan Railways group in 1987. This is a gallery focusing to JNR.

・駅(東日本) Stations(East Japan)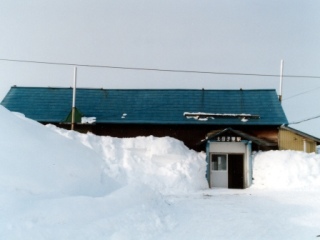 深名線北母子里駅。1995年廃止。1978年に付近でマイナス41.2℃の日本最低気温が観測されている。(1994年3月撮影)
Kita-Moshiri Station on the Shinmei Line. Abolished in 1995. Minus 41.2 degree celsius, the coldest temperature in Japan was recorded nearby in 1978. Photo in Mar, 1994.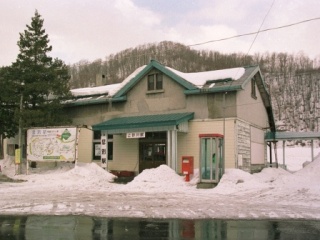 函館本線上砂川支線上砂川駅。石炭の積み出しで賑わったが、炭鉱の閉山とともに廃れ、1994年に廃止された。駅舎のみ保存されて現存する。(1994年3月撮影)
Kami-Sunagawa Station on the Hakodate Mainline Kami-Sunagawa branch. This station was opened to handle coal, however fell into disuse due to closure of coal mine nearby, and finally abolished in 1994. Station building itself was preserved and exists as it was. Photo in Mar, 1994.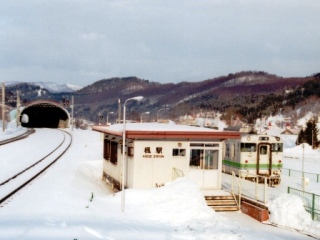 石勝線楓駅。数多くの特急列車が通過する本線を横目に、側線のホームに1日1本の折り返し列車がやってくるだけの風変わりな駅だった。2004年に信号所に格下げされ、駅舎も解体された。(1994年3月撮影)
Kaede Station on the Sekisho Line. It was a strange station, where a shuttle train came to a platform on sidling only once a day. Downgraded to signal station with no train stop and station building was scrapped in 2004. Photo in Mar, 1994.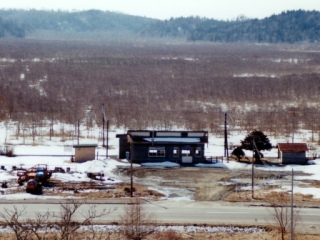 根室本線糸魚沢駅。背後に荒野が広がり、駅前を国道44号線が走る。(1994年3月撮影)
Itoizawa Station on the Nemuro Mainline. behind of the station is strech of moor, and the road in front is the National road route 44. Photo in Mar, 1994.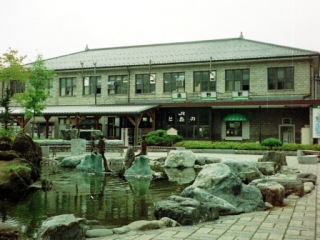 釜石線遠野駅。民話の里らしく石造りの重厚な駅舎と駅前のモニュメントが観光客を迎える。(1993年7月撮影)
Toono Station on the Kamaishi Line. Toono is famous as folklorish town, and tourist is welcomed by stone-made station building and monument in front. Photo in Jul, 1993.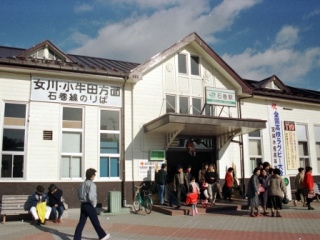 仙石線・石巻線石巻駅。石巻駅は仙石線と石巻線でそれぞれ別々の駅舎があったが、1990年に統合され、この石巻線の駅舎も建て替えられた。(1990年1月撮影)
Ishinomaki Station on the Senseki and Ishinomaki Lines. Ishinomaki Station had own station buildings on each lines separately but they were combined in 1994 and this station building on the Ishinomaki Line was replaced. Photo in Jan, 1990.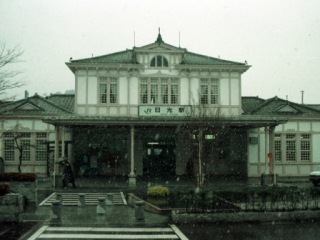 日光線日光駅。観光地の表玄関にふさわしい伝統ある駅舎だが、旅客は東武鉄道と競合状態。現在はローカル列車のみの運行。(1993年1月撮影)
Nikko Station on the Nikko line. Historical station building is suitable as a gataway of famous tourist city, however, the JR Nikko line is less competitive with the Tobu Nikko line. Only local trains are operated on the JR Nikko line. Photo in Jan, 1993.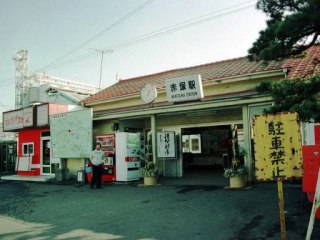 常磐線赤塚駅。1993年のお正月姿。かつては茨城交通茨城線が乗り入れていたが1971年に廃止。この駅舎も1999年に建て替えられた。実は筆者の故郷。(1993年1月撮影)
Akatsuka Station on the Joban Line. New Year Decoration can be seen. Ibaraki Kotsu Ibaraki Line was operated to this station until 1971, and this station building was replaced in 1999. This is my hometown. Photo in Jan, 1993.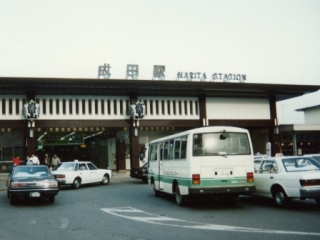 成田線成田駅。国際空港の所在地として有名な成田だが、もともとは成田山新勝寺の門前町であり、駅舎も寺を意識したものである。成田空港の隣駅だが成田エクスプレスは停車しない。(1990年5月撮影)
Narita Station on the Narita Line. Narita is famous for International Airport, but originally it has been a temple town of Shinsho-ji Temple. Station building is therefore inspirated by the temple. It is the next station of Narita Airport, but "Narita Express" does not stop at this station but bounds directly to Tokyo. Photo in Jan, 1990.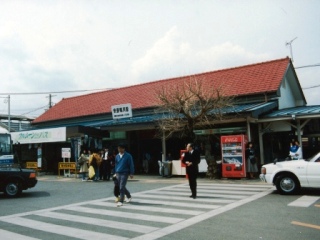 内房線・外房線安房鴨川駅。内房線と外房線の終着駅である。そのためこの列車を出発する列車は両方向とも上り列車である。温暖な気候で人気の観光地。2006年に駅舎改築。(1990年4月撮影)
Awa-Kamogawa on the Uchibo and the Sotobo Lines. These lines are terminated at this station, hence all trains depart from this station is up-trains. Popular destination of vaccation due to mild climate. The station building was replaced in 2006. Photo in Apr, 1990.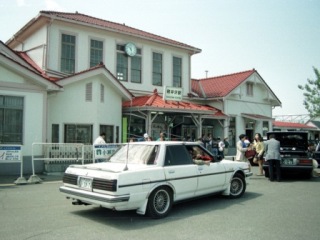 信越本線軽井沢駅。信越本線の難所、横軽(横川-軽井沢)も1998年の新幹線の開業によって昔の話となってしまった。横川-軽井沢は廃止、軽井沢-篠ノ井はしなの鉄道に移管、駅舎も建て替えられたが付近に移築保存されている。(1992年5月撮影)
Karuizawa Station on the Shin-Etsu Main Line. Yoko-Karu(Yokokawa/Karuizawa section) was a chokepoint of the Shin-Etsu Main Line, but it was already an old story by opening of Shinkansen in 1994. Yokokawa/Karuizawa section was abolished, while Karuizawa/Shinonoi section was transfered to Shinano Railway. Station building was also replaced at that time, but this building was preserved nearby and exists as it was. Photo in May, 1992.