ナロー鉄道 Narrow gauge railways
一回り小さなナローゲージ(狭軌)の鉄道を集めてみました。
Gallery of small narrow gauge raiwlays in Japan. Though most of Japanese railways including JR lines using narrow gauge of 3ft 6inch, below mentioned railways use gauges less than 3'6".
・産業用 Industrial Narrow Gauge Trains
日鉄鉱業 尻屋鉱業所 / Nittetsu Mining, Shiriya Mining site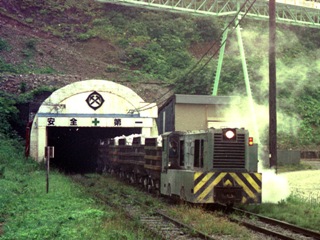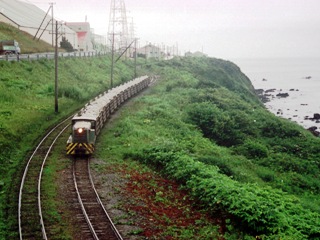 産出された石灰石が積み出し港まで鉄道で輸送されていたが,ベルトコンベヤー化されてしまった。(1993年7月撮影)
Limestone was carried by shuttle train to the pier, but it was replaced by belt conveyors. Photo in Jul, 1997.
日本粘土鉱業 / The Nippon Clay Mining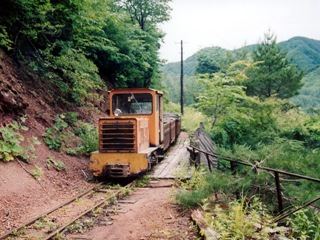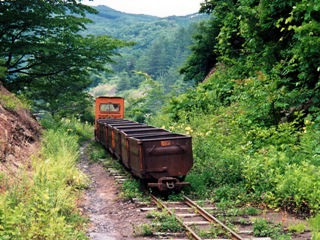 油圧モータ駆動の機関車が活躍していた。1996年に閉山。(1993年7月撮影)
The locomotive is powered by Hydrauric Motor. Operation ceased in 1996. Photo in Jul, 1997.
栃原金山 / Tochihara Gold Mine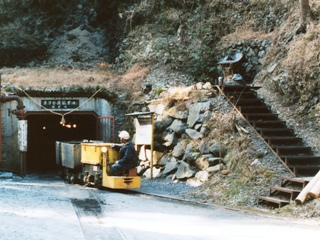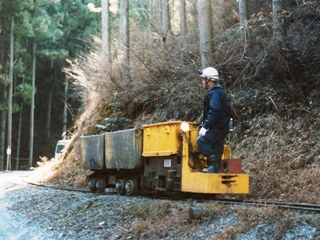 入場料を払うと坑内を見学できたが、2000年代初頭に休業。(1995年1月撮影)
The mine was open to visitors with admission fee, but operation ceased in early 2000's. Photo in Jan, 1995.
立山砂防軌道 / Tateyama Sabo Erosion Control Works Service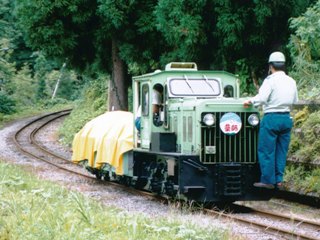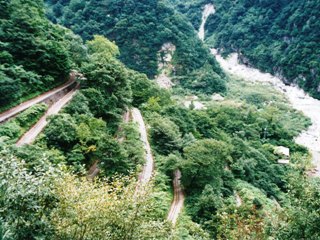 体験乗車会に参加したときの様子。(1999年9月1日撮影)
Participated in a study tour to ride the train with 2 ft (610 mm) narrow gauge. Filmed on 1 Sep, 1999.
(下左)逆行する貨物列車。(下右)17段スイッチバック。
(lower left) A freight train ran in reverse direction. (lower right) 17 tiers of Zig Zag.

関西電力 黒部専用軌道 / Kansai Electric Power Company Kurobe dedicated line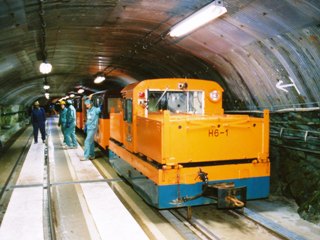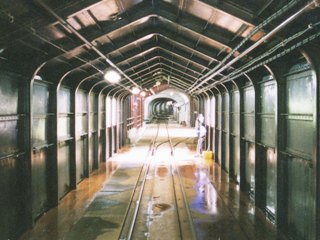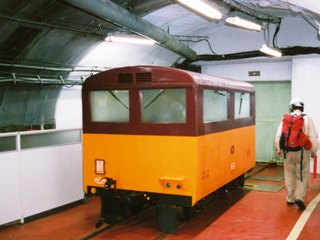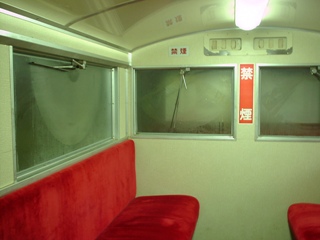 関西電力の黒部川流域地下発電所の建設・運営のための鉄道。高熱のために建設は困難を極めた。温度が下がった現在でも耐熱客車が使用される。専用軌道のため一般人が乗車する事が出来ないが、時折見学会が募集される。(2001年6月撮影)
This railway is constructed for building and maintainance of underground hydraulic power station at Kurobe River. The construction was difficult due to high temperature. It is cooled off now, but special heat-resistant coach is used. This railway is not open for public, but organized tour is offered periodically. Photo in Jun, 2001.
松本建設 / Matsumoto Construction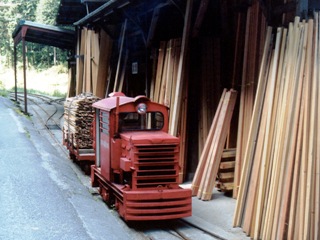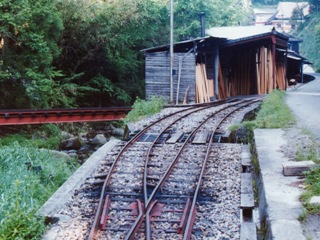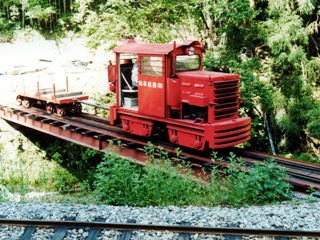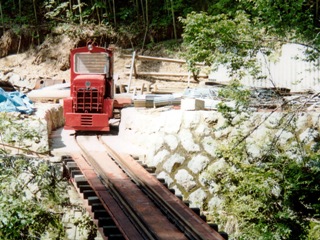 材木を輸送するための軌道だったが、道路の拡張工事のために姿を消した。。
(上右)木材と機関車
(上左)道路沿いの軌道 
(下左)橋の上の機関車
(下右)橋の奥にはガソリン機関車も (1993年6月撮影)
This rail was for transporting lumber, disappeared due to extension of road.
(upper right) Lumber and locomotive.
(upper left) Track alongside of a road
(lower right) A locomotive on the bridge.
(lower left) A gasolie locomotive was sitting over the bridge. Photo in Jun, 1993.
明延鉱山 / Akenobe Mine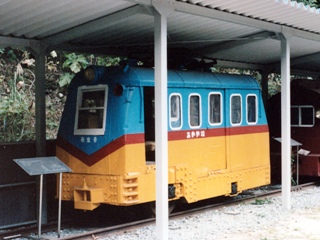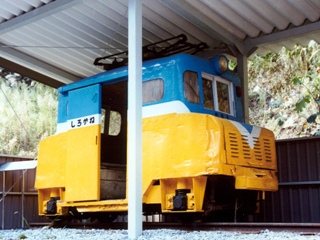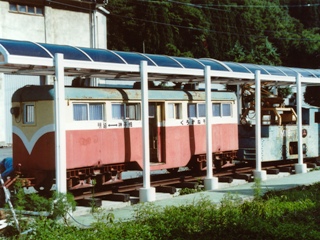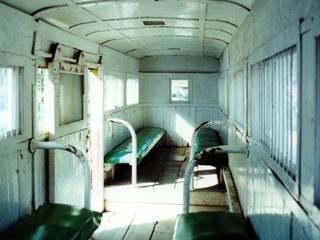 明延は非鉄金属を産出した鉱山。一般人の便乗も認められていたが、1985年に廃止された。
(上右)あかがね号 前後の車輪の大きさが異なる珍車
(上左)しろがね号 
(下左)くろがね号 機関車に牽引されるタイプ
(下右)くろがね号の車内 (1994年10月撮影)
Akenobe was a metal mine. Visitors were admitted to ride the railway, however it was abolished in 1985.
(upper right) The "Akagane". The size of front and rear wheels are different!
(upper left) The "Shirogane".
(lower right) The "Kurogane". A coach hauled by a locomotive.
(lower left) The interior of the "Kurogane" Photo in Oct, 1994.
天草の陶石鉱山 / Clay Mines in Amakusa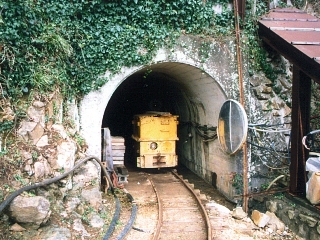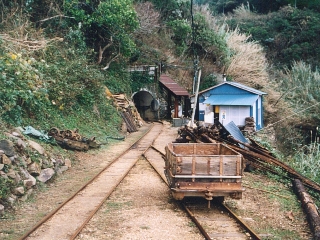 陶石を産出する天草地方で活躍するトロッコ。(1997年12月撮影)
There are some railways to carry clay stone in Amakusa area. Photo in Dec, 1997.
屋久島の森林鉄道 / Yakushima Forestry railway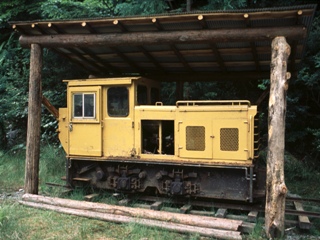 屋久島の森林鉄道は、上流部分が登山道として開放されている。(2001年7月撮影)
The track of Yakushima Forestry railway is used for the trail of Mountaineering at upstream section. Filmed in July, 2001.