宗教パワースポット Religious power spots
独自に日本の宗教パワースポットを集めてみました。
My original selection of religious power spots in Japan.
・南朝の末裔 Decendant of secret Emperor
南朝の遺臣の子孫が毎年2月5日に奈良県川上村にある金剛寺に集い、南朝最後の指導者である自天王(北山宮)を偲びます。
The Southern Court of Japanese Emperor existed until 1392, but it was parmanently replaced by the Northern Court. Decendant of Servants for the Southern Court gather on 5th of February annually, and hold a ceremony to commemorate Jitenno, the last leader of the Southern Court.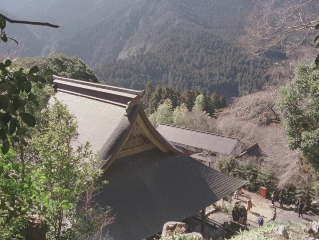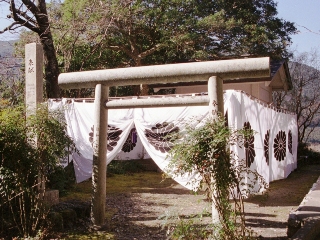 (左)奈良の山中にある金剛寺。朝拝式の舞台。
(右)菊の紋章が染め抜かれた陣幕で囲まれた宝物殿。
(Left)Kongo-ji Temple in Nara surrounded by deep mountains, where the ceremony is held.
(Right)The treasure house surrounded by curtains with the coat of arms, The Chrysanthemum Throne is painted.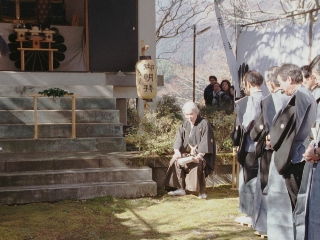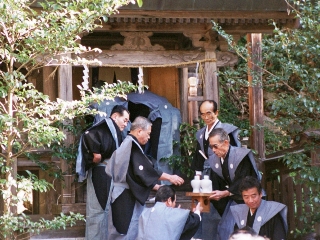 朝拝式の様子
Ceremony scene.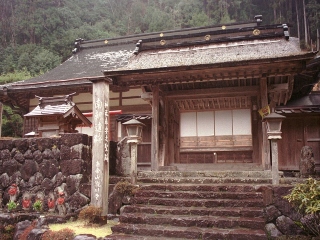 (左)南帝山瀧川寺。自天王の御在所であり終焉の地と伝えられる。
(右)瀧川寺に伝わる神器「草薙の剣」。 何れも2000年2月撮影
(Left)Ryuzen-ji Temple is said to be the Palace of Jitenno, where his life ended.
(Right)The sword said to be the regalia "Kusanagi no Tsurugi" kept at Ryuzen-ji Temple. All Photo in Feb, 2000.