宗教パワースポット Religious power spots
独自に日本の宗教パワースポットを集めてみました。
My original selection of religious power spots in Japan.
・渡来の神社 Shrine from Korea
埼玉県の高麗(こま)地方は8世紀に朝鮮からの渡来人が定住した土地です。その名残として、高麗神社周辺には朝鮮の道祖神「将軍標」を見ることができます。
Koma region in Saitama Prefecture accepted immigrants from Korea in 8th Century. We can know such history seeing some Korean totem poles, village guardian around Koma Shrine.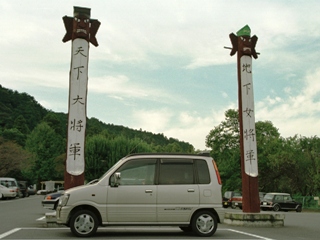 (左)神社の駐車場に建つ巨大な将軍標。
(右)付近のお寺の境内にも将軍標が。
(Left)Huge totem poles are erected at the parking place of Koma Shrine.
(Right)Totem poles can be seen in front of a temple nearby as well.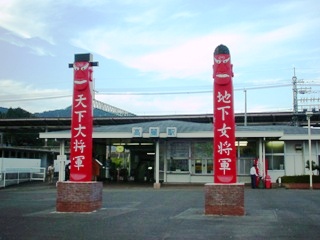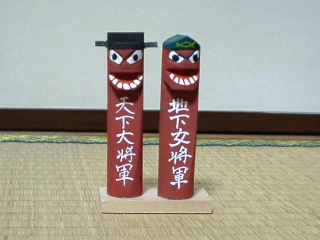 (左)西武鉄道の高麗駅前の赤い将軍標。
(右)神社のお土産。何れも2000年10月撮影
(Left)Red Totem poles in front of Koma Station on Seibu Railway.
(Right)Souvenir of the Shrine. All Photo in Oct, 2000.